Pawprint: A conceptual app to discover and hire reliable and experienced dog walkers.
The Challenge
Design a dog walker scheduling app where you can find a dog walker, see their schedule, book a time, and rate them.
Project Timeline: 4-6 hours
Getting Started
Given the time available, I chose to design a mobile app. I have never had a dog and have no idea about the dog-walking process. I started off by pinging a few friends who have dogs, reading a bit on the internet and by actually making a booking on Task rabbit. It was an insightful experience - since I didn't realize that the dog-walking industry was 80+ years old, is huge in terms of financials and there were several professional players already established in the space.
Conceptual Iterations
Starting with a basic user story on Trello, I sketched a handful of concepts on paper and digitally. My initial assumptions were centered around enabling the user to define their requirements in detail and setting up a "doggie profile" before they searched for dog-walkers. As I iterated through the ideas, I discovered solutions to optimize the flow to reduce data entry for the user and enable them to engage immediately with the app.
Wireframe Iteration 1
Some initial ideas explored here were displaying social proof to enable the user to tap into their community for reliable recommendations, map view of listings, dynamic update of search results and creation of "doggie profile" to save commands used, allergies, medications and other instructions for dog-walkers to follow.
Wireframe Iteration 2
These low fidelity wireframes were generated to get the overflow user story and flow organized.
Wireframe Iteration 3
The following are low fidelity wireframes that were generated with the intention of quickly cycling through layout options and developing the information hierarchy. The main screens that I focused on were - search results and detailed view of a profile.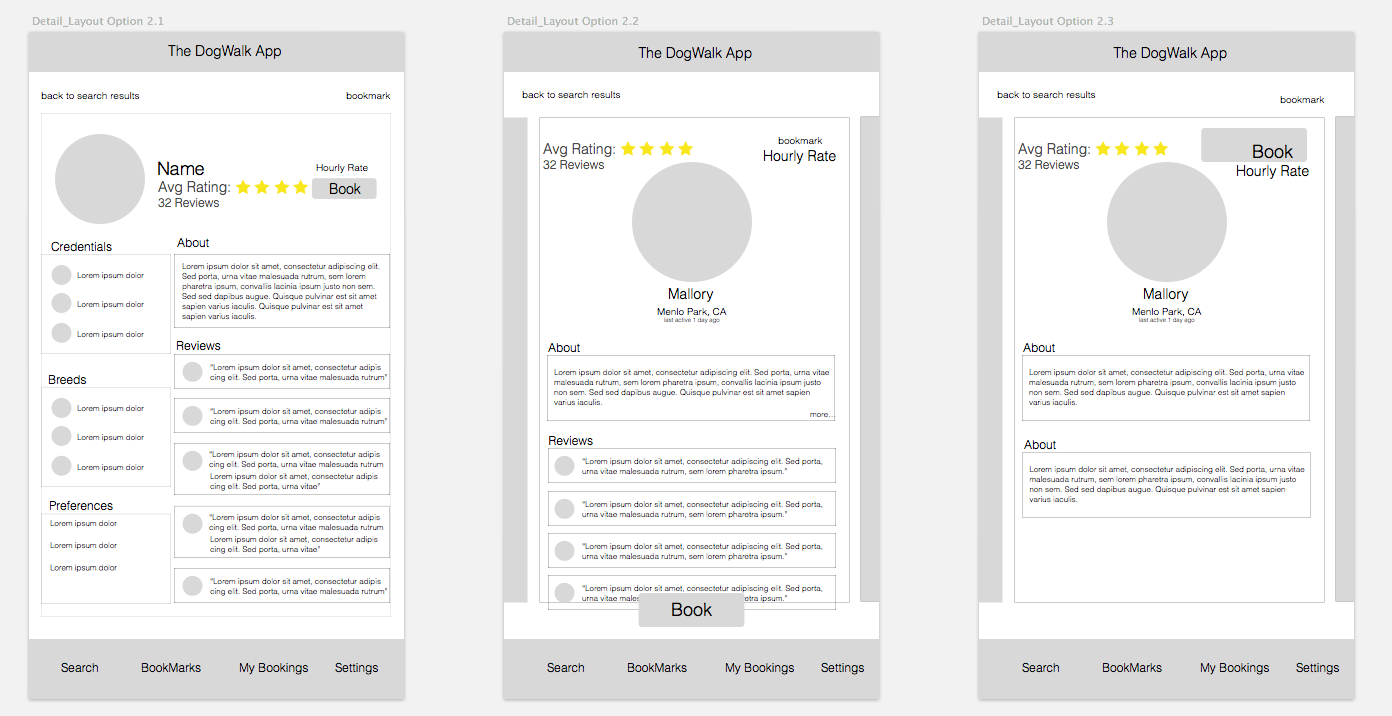 Design Explorations
These were the two final design options developed with the intention of a) finalizing the overall design direction b) prototyping the layout and various interface/information elements with users. I finalized on option 2.
Visual Design
The final design consists of a initiation screen followed by search results, detailed profile view upon selection, subsections within the profile, booking confirmation and dog tracking. The design was very well received by a few dog owners I showed it to!